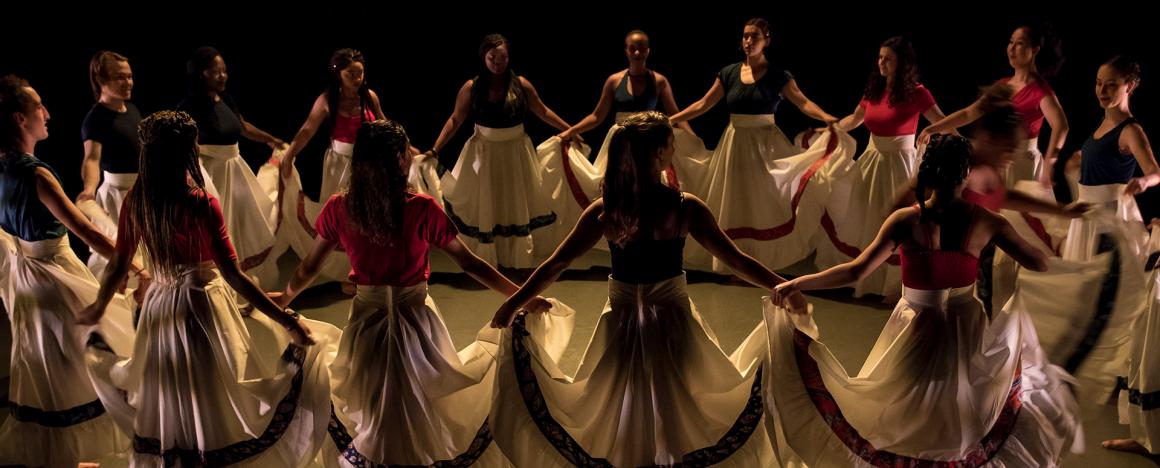 Extracurricular dance groups are popular centers of social and creative student activity. These groups operate independently of the Dance Program, though we enjoy a healthy cross-over between the Dance Program and these groups. Dance groups rehearse in our Dance Program studios and share informal campus programming. For further information regarding the extra-curricular dance groups, please contact the Tufts Office for Campus Life at 617-627-3212 or via individual group representatives.

BlackOut Step Team

We're Tufts all-male step team which performs on campus, local showcases, and at interstate and national competitions (which we win). We join together on stage with the motto of "One sight, One sound." Our practice times are Monday's 8-10 pm and Thursday's 9-11 pm. Our tryouts are rolling admission this semester. For more information, please email us.

COCOA Dancers

COCOA is an African dance collective that appreciates the beautiful art -- that is, African dance and its history deep rooted in resistance and self-empowerment. We specialize in dance of the African diaspora and perform at black cultural events on and off campus and hold open dances for the Tufts community.

Encendido

Encendido is a Latine-based dance group specializing in styles within the Latin American Diaspora like Bachata, Merengue, Cumbia & Salsa. Encendido's mission is based on our motto "We bring the Latin H.E.A.T". Our acronym H.E.A.T. stands for Hosting a space of commitment & discipline, Elevating each other, Acknowledging & respecting all cultures within our dances, and Thriving as a team on stage. We choreograph performances based on the interests and experiences of current team members--meaning our style and energy is unique from year to year. Additionally, we hold open lessons and events for y'all to learn our styles and have fun dancing. We're open to all Tufts University community members, so come get involved!

ENVY

ENVY is the only all-femme competitive step team at Tufts. We work hard to be innovative, entertaining, and elegant through rhythmic movements, powerful beats, and intense facial expressions. Beyond stepping, ENVY is also a sisterhood that provides a supportive community and safe space for all members. Together, we express ourselves and share the art of stepping with those around us!

Harlem Grooves

The mission of Harlem Grooves is a growth-oriented dance company dedicated to the history and progress of Black American traditional dance forms. These forms include but are not limited to contemporary, jazz, swing, and hip hop. We perform in our own show each semester as well as collaborate with other organizations to perform off campus. Please go to our instagram page to find more information about our group!

Korean Dance Association (KoDA)

KoDA is a student-run dance group at Tufts University dedicated to learning, teaching, and performing choreographies from K-pop artists and popular Korean dance studios. We hold weekly open meetings, create monthly music video projects, and perform at a few events each semester. Everyone is welcome to join, no matter what background or prior experience!

R.O.T.I & R.U.M.

R.O.T.I & R.U.M, Tufts University's only Caribbean dance team, use our acronym: Rhythm of the Islands through Rhythm, Unity, and Movement, in every dance to share Caribbean culture. R.O.T.I & R.U.M embraces all aspects and influences of Caribbean culture by dancing to a variety of music such as Soca, Dembow, Reggae, Dancehall, Kompa, and more. In life and on the stage, we follow this motto: When in doubt, whine it out!

Sarabande

Sarabande is a group of dedicated dancers who choreograph, produce, and perform shows on campus each semester. Sarabande's work is primarily contemporary, jazz and ballet based.

Spirit of the Creative

Spirit of the Creative is a hip hop and commercial choreography dance group from Tufts University. Our dance routines and training sessions draw inspiration from diverse styles, including street jazz, hip hop, k-pop, contemporary, and other genres that vary based on the unique styles and backgrounds of our members and choreographers. We take pride in putting on entirely student-choreographed/produced shows at the end of the semester with hard-hitting choreography, as well as occasionally performing in other Tufts dance teams' showcases, performing in local exhibitions, and collaborating harmoniously with the Boston dance community. We are committed to growing as a team and sharing our passion for dance with the Tufts community. You can find us at our links below and in Tufts' Hill Hall every weekend :)

Tufts Ballroom

Ballroom is a student run dance group focusing on ballroom and Latin dance. We give lessons on a biweekly basis to anyone who is interested in learning. In addition to lessons, we participate in both competitions and social dancing, and have a show dance component. No audition or experience is required!

Tufts Bhangra

Tufts Bhangra is one of Boston's premier competitive bhangra teams! Bhangra is a traditional Punjabi art form that has evolved in the United States into a high-energy and competitive style of dance. We compete all over the country each year and we have traveled to places like Santa Barbara, New York, Ohio State and more. On campus, we usually perform multiple times a semester, including performances at the annual TASA Culture Show around the end of February! Each year, we have tryouts at the beginning of the fall semester. Come check us out!

Tufts Burlesque Troupe

TBT exists to create an identity affirming and body celebrating community through dance. We are an ever-expanding, no cuts group with over three hundred dancers. Our style of dance is diverse, encompassing everything from traditional and contemporary burlesque to hip hop. We produce two shows at the end of each semester with approximately eighteen dances. Burlesque welcomes dancers of all experience levels and backgrounds. Our number one goal is for dancers to feel confident and sexy both on and off stage. For questions and comments, please contact us.

Tufts Dance Collective

TDC is a no audition, no experience necessary dance group

Tufts JumboRaas

JumboRaas is Tufts' premier competitive Raas/Garba team, practicing the Indian folk-dance styles originating from the Western state of Gujarat. We bring a modern twist on the traditional dance form to performances across Tufts, the greater Boston area, and inter-collegiate competitions across the nation.We are entirely student-run, and no prior experience is required to join. We typically hold tryouts at the beginning of Fall and Spring semester! Feel free to reach out and stay connected to us through our socials, or our email, and come join us at auditions, we would love to see you!

Tufts Middle Eastern Dance

Middle Eastern Dance (formerly Tufts Belly Dance), was founded in 2008 to expose students to the exciting world of middle eastern dance. Our group offers beginner and intermediate classes taught by local professional, Seyyide Sultan. We host annual shows in the Fall and Spring semesters. In addition to our own show, we guest perform seasonally across campus events. Our group draws from a wide variety of dance styles, including Egyptian, Lebanese, Turkish and Tribal. We welcome all identities who are excited to celebrate and earn more about Middle Eastern dance and dance culture.

Instagram Facebook Email Website

Tufts Pulse

Pulse is Tufts' only competitive Indian classical dance team on campus! We are entirely student run and choreographed. We perform both fully classical pieces (usually addressing social issues), as well as fusion pieces! We've performed and competed on-campus, across the country (from Pittsburgh to Harvard and almost to LA before COVID!) and virtually (where we won 1st place in 2021's Suhasini competition). We recommend some familiarity with classical dance forms, but people from our team come from different dance backgrounds and varying levels of experience. Get in touch with us to learn about auditions and more!

Tufts Tap Ensemble

Tufts Tap Ensemble is a dance group at Tufts devoted to tap dancing. Each semester, we produce a show that features several pieces choreographed, taught, and performed by our group members. Additionally, we strive to remain involved within the Tufts community by guest performing in other student shows, holding open classes, and attending other community-centered events. We also love to perform in dance shows for tap groups in the greater Boston area so we can connect with the larger tap dance community.

Instagram Facebook Email Website

Tufts Wuzee

(舞姿 wu3zi1, a dancer's aura and energy) is a Chinese fusion dance group. Combining a variety of traditional Chinese dance styles with contemporary elements, Wuzee strives to spread the appreciation of Chinese culture through dance. Besides the annual Wuzee showcase in the spring, we perform at various events all year round. Wuzee welcomes dancers from all backgrounds and experience levels, no audition necessary. For questions and outreach, please get in touch!

Instagram Facebook YouTube Email

Tamasha

Tamasha is Tufts University's only Bollywood-Fusion dance team. We strive to bring people together from all over the US and the world that want to learn or have different dance backgrounds. Our choreography is a blend of Eastern and Western styles, more specifically a combination of Hip Hop, Bollywood, Contemporary, Classical, and Bhangra. Tamasha's goal is to create a piece that reflects the passions and cultures of our dancers so our choreography each year is unique from the rest.

Instagram Facebook Email Youtube

Turbo

Turbo is a break dance/hip-hop crew and a student organization at Tufts University. We promote B-boy/hip-hop culture on campus and provide opportunities to those who want to start breakin'/hip-hop dance and learn what it's all about. Whether you've been dancing for years or just looking to start, anyone is welcome to come! Practices are Tuesday at 8pm in Jackson Gym.

Pen, Paint & Pretzels, a.k.a. 3Ps

Tufts' student theatre organization for plays. All plays are student produced, directed, designed, acted, and sometimes even student written!

Cheap Sox

Cheap Sox is an improvisational comedy troupe and the oldest running comedy group at Tufts, since 1986.

Major: Undecided

Major: Undecided is a sketch comedy group.

Torn Ticket II

Torn Ticket II is Tufts' fully student-run musical theatre organization.

Hype! Mimez

Hype! is the only all student collegiate mime troupe in the United States.

The Institute

The Institute is an audition based sketch comedy group that writes and performs in both live and video sketches.

Instagram Youtube Facebook Website

Traveling Treasure Trunk

Tufts' only children's theatre troupe; a Unique blend of theatre performance and community service.

TUTV

TUTV is a student-run production studio that strives to foster a supportive and collaborative community where anyone can learn about filmmaking, television, and develop their own artistic voice.