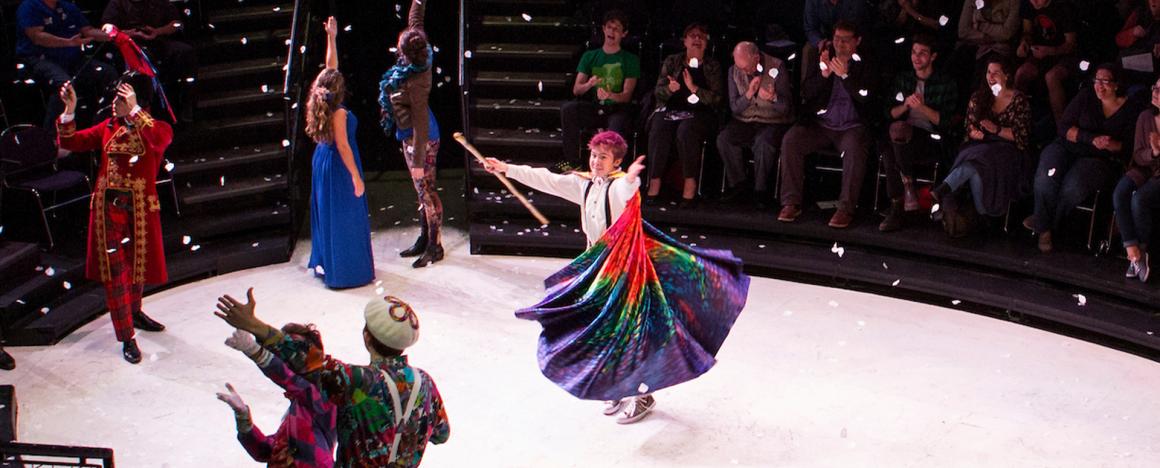 The Department of Theatre, Dance, and Performance Studies celebrates the power of scholar-artists to engage with their society, pose challenging questions, and re-imagine the role of the arts in contemporary culture. We are deeply committed to sustaining a diverse and inclusive community. Our work is enriched by students, faculty, and colleagues able to share differing opinions and experiences with respect and compassion. The courses we offer and the works we produce challenge us to recognize, value, and give voice to social justice issues. We tell stories that recognize the humanity and lived experience of people of color, LGBTQ citizens, and people with disabilities. We believe that the arts offer us a unique opportunity to expand our understanding of what it means to be a more open, representative, and collaborative community.
With over twenty-five full-time and part-time faculty and staff in areas including acting, dance, design, directing, dramatic history and literature performance studies, dramaturgy, film, production, and technical theatre, we offer an undergraduate major and minor in Theatre and Performance Studies, a minor in Dance, and a PhD program in Theatre and Performance Studies.
Our undergraduate program provides a strong liberal arts approach to the intellectual, historical, and aesthetic dimensions of performance. Theatre, Dance, and Performance Studies' courses and performances explore a wide range of styles and techniques. Whatever your particular area of interest within the field may be, you will be able to explore it at Tufts. You will also enjoy close opportunities for close collaboration with fellow students and actively engaged mentorship from department faculty and staff.
Our busy production season provides numerous opportunities for student involvement in performing, producing, designing or technical theatre. We stage three major faculty-directed productions per year in Theatre and Performance Studies, plus two faculty-directed Dance concerts. We round out the season with multiple student-directed shows per semester, as well as our twice- annual "Dance Mash-Up." Undergraduate students may receive course credit for their involvement in departmental productions. Graduate students often serve as assistant directors or production dramaturgs on our mainstage shows. Courses and productions are open to all Tufts students, regardless of major. If you have questions about the audition process, you are welcome to contact us.
Our MA/PhD program trains students for careers as scholar-artists. Students enjoy close working relationships with award-winning professors and in a region that boasts some of the most impressive archives in the country, as well as over eighty professional theatre companies and more than twenty dance troupes.
Department of Theatre, Dance, and Performance Studies alums have moved into a variety of fields, including stage, film, television, professional dance, politics, arts leadership, fund-raising, community activism, law, public relations, and education. We're proud that our students apply their training in such a wide range of professions. Alums report that the skills they learned in our programs and productions have served them well, no matter what their career path.