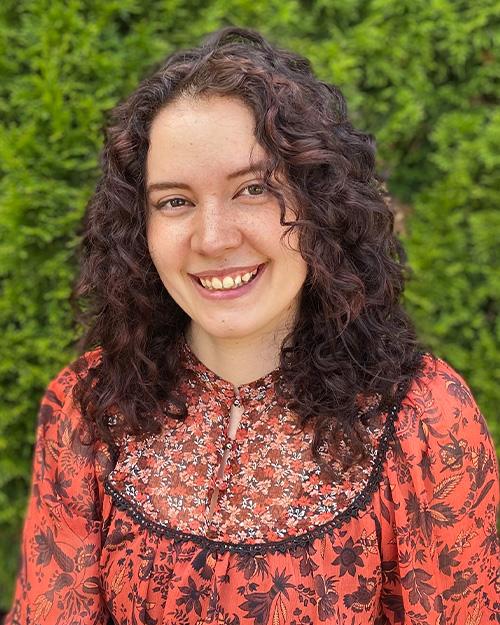 Whitney Brady-Guzmán
Pronouns: she | her | hers
Whitney Brady-Guzmán is a PhD student whose research includes resource extraction, cultural citizenship, and depictions of national prosperity in Latin America. Current work examines how cultural heritage sites in Mexico are oriented around strategic performances of nationhood, colonial legacy, race, and territory. She received a BA in Drama and Religion from Vassar College, and an MA from Tufts University with a thesis titled "Processing the Pain of Others: Witnessing Semana Santa Penitents in Taxco Through Procession." She is serving as the ATHE Latinx, Indigenous, and the Americas Focus Group Graduate Student Representative throughout the 2021-2023 academic years. Whitney is also an award-winning lighting designer who has worked professionally throughout the northeastern United States.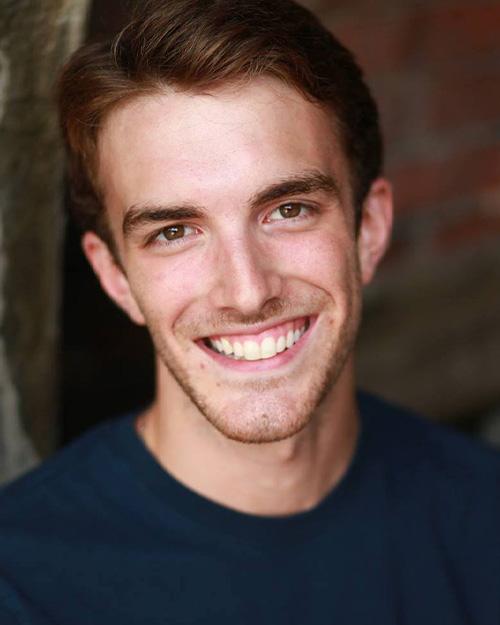 Steve Drum
Pronouns: he | him | his
Steve Drum is a PhD candidate at Tufts. His research interests include celebrity performance, film history, and LGBTQ popular entertainments. He has presented his work at the Society for Cinema and Media Studies, the International Celebrity Studies Conference, the Southwest Popular/American Culture Association, and the Northeast Modern Language Association. Steve works as a Writing and Public Speaking consultant for the Academic Resource Center at Tufts. He also serves as chair for the Academic and Career Development committee in Tufts' Graduate Student Council. He earned a BFA in Drama from New York University and an MA in Cinema Studies from Savannah College of Art and Design.
Stephanie Engel
Pronouns: she | her | hers
Stephanie Engel is a PhD candidate who currently works as the Communications and Program Manager for the Robina Institute of Criminal Law and Criminal Justice at the University of Minnesota. Stephanie's dissertation focuses on consumption, debt, and healthcare in contemporary United States life. Her other research works within disability and gender studies, race and performance, and U.S./Latin America relations. Through her research and educational praxis, Stephanie has received the Tisch Graduate Fellowship in Arts & Humanities, the GSAS Fung E.M Humanities Summer Fellowship, and the GIFT Fellowship.
Before Tufts, Stephanie studied at the University of Warwick in the United Kingdom and received a BA from Allegheny College, where she graduated Phi Beta Kappa and Summa Cum Laude with a dual degree in Theatre and History. Stephanie has also previously worked in dramaturgy and community outreach for the likes of A.R.T., Company One, the Eugene O'Neill Theater Center, the Guthrie Theater, and Mixed Blood Theatre. 
 
Amelia Estrada
Pronouns: she | her | hers
Amelia Rose Estrada is a queer, Latina-Jewish interdisciplinary artist and scholar. For her dissertation, she is researching the intersection of dance, race, and nation in the Dominican Republic and Dominican diaspora. She received her M.A. in Theater and Performance in 2022. Her M.A. qualifying paper, Balancing and Bending in Bling: The Aesthetics of the Acrobatic Latina Athlete, analyzed the first pair of athletes to represent Team Mexico in Acrobatic Gymnastics and how glitter aesthetics are used to reflect and project identity. As a performance maker, she is interested in crafting work that speaks to identity, gender, queerness, and intergenerational ancestral relationality. Her choreography has been presented at SPACE in Portland, Maine, the Spark Theater Festival NYC, FilmFest by Rogue Dancer: h2o Edition, the Koresh Artist Showcase and at Cuerpo Mediado Festival de Videodanza in Rosario, Argentina, among others. As a theatrical choreographer, Amelia has worked on productions including CarmXn, a modern adaptation of the opera Carmen with Hogfish, Spring Awakening at Tufts, she is the associate choreographer for Moonbox Theater's 2023 production of Sweeney Todd, and she will be directing and choreographing Twelfth Night: The Musical at Tufts in the spring. Amelia also makes lesbian dance theater with her artistic partner, Elle Jansen, under the company name MELLE. As a freelance performing artist, she has had the pleasure of working with Edwin and Matt Cahill at Hogfish, Joy Clark, Luminarium Dance Company, Eventual Dance Company, Catherine Stiller, Brian Sanders' JUNK, Megan Flynn Dance Company, and Leilani Chirino Dance and Drum Ensemble, among others. For more info: www.aremoves.com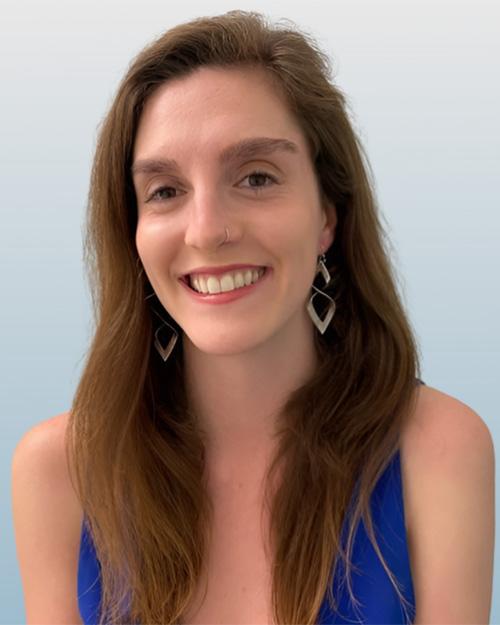 Grace Evans
Pronouns: she | her | hers
Grace Evans is a first-year PhD candidate whose research concerns embodiment, theatricality, and stagings of neoliberal violence within U.S. labor and immigrant solidarity movements. She graduated summa cum laude from Harvard University with a B.A. in Social Studies and a secondary in Ethnicity, Migration, Rights. Her undergraduate research explored how white faith activists in the Austin Sanctuary Network rehearsed their political and ethical commitments during times of narrowing political opportunities for challengers to the U.S. deportation regime. Grace previously organized for union recognition and worker power in the hospitality industry and currently teaches high school students through the local workforce development board. She aims to produce interdisciplinary scholarship that is accessible and provocative for those active in movement work.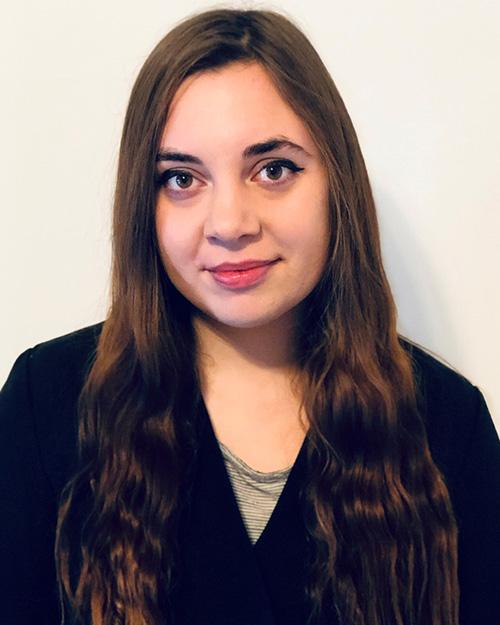 Jenny Henderson
Pronouns: she | her | hers
Jenny Henderson is a Ph.D student at Tufts University whose research investigates the intersections of performance, place, and memory; her current project traces legacies of sexual abuse and bodily agency along U.S. sites of transit. She recently completed her M.A. thesis which interrogated anti-Black violence within the American interstate system and examined artistic and activist modes of refusal communities have deployed on highways. She also taught the department's new "Performance and Social Justice" course and worked as a research assistant for Dr. Lilian Mengesha and Dr. Daanika Gordon's "Building Transformative Justice at Tufts" initiative. Jenny graduated Cum Laude from Miami University in 2017 and spent the following few years working as a copyeditor in Chicago, IL. In addition to her scholarship, Jenny has gained recognition for her work in cultural criticism and creative nonfiction.
Teri Incampo
Pronouns: she | her | hers
Teri Incampo is a director and doctoral candidate whose research explores depictions of paid domestic labor on the stage and screen, the formation of celebrity and stardom, and the legacy of Black actors working in mainstream American entertainment between 1890 and 1990. She earned an MA in Theatre and Performance Studies from Tufts. Her work has been published by the New England Theatre Journal and she is a 2021-2022 Graduate Dissertation Fellow at the Center for the Humanities at Tufts. In 2019, she received the Mother Board Prize for Graduate Student Research and Writing from the Consortium for Graduate Studies in Gender, Culture, Women, and Sexuality for her work on gesture and protest performance in the Black Lives Matter movement. Teri has presented her research at conferences organized by the American Society for Theatre Research, the Mid-America Theatre Conference, and the Association for Theatre in Higher Education. She co-founded the Boston-based fringe theatre company Exiled Theatre in 2014. Teri is currently a Visiting Assistant Professor of Theater and Dance at Trinity College.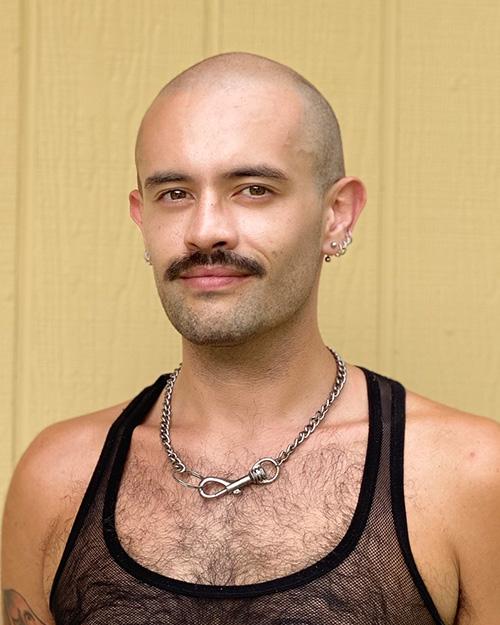 Mac Irvine
Pronouns: they | them | theirs
Mac Irvine is a queer writer, curator, and PhD student in Theatre & Performance Studies at Tufts University. Their interdisciplinary work explores the gendered and racialized labor of identity, community, and movement making in nightlife and performance spaces in Texas. Their scholarship has been supported by the Tufts' Graduate School of Arts and Sciences' Fung E.M. Humanities Summer Fellowship. Mac teaches courses on feminist, queer, and trans* studies and performance studies, and has developed open education resources as a pedagogy fellow at the Center for Black, Brown, and Queer Studies. They are a researcher and curator with the Chicago Black Social Culture Map, a project of Honey Pot Performance. Mac is a regular curator and collaborator with Texas-based performers and organizers p1nkstar, Y2K, Thee Gay Agenda, and others. They have also worked with Austin-based organizations including Badgerdog, OutYouth, and The Austin Chronicle. In 2019, Mac received an MA in Women's & Gender Studies at The University of Texas at Austin, where their performance ethnography of queer nightlife creators in Chicago was recognized with the department's award for outstanding thesis. Mac received their B.S.J. in Magazine Journalism from the Medill School of Journalism at Northwestern University in 2014.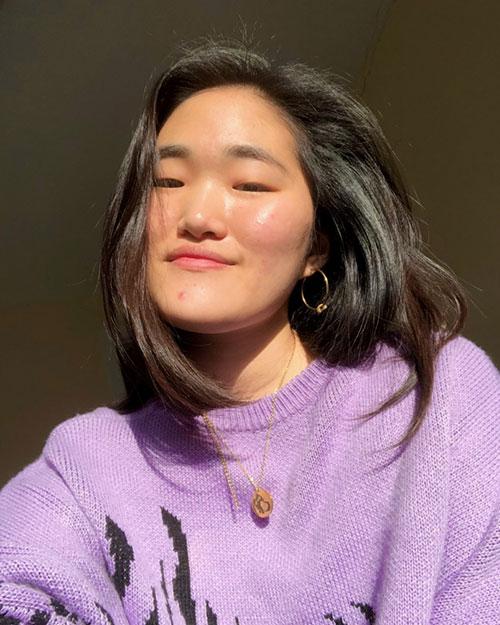 Sung-Min Kim
Pronouns: she | her | hers
Sung-Min Kim is an MA/PhD student who received a BA from Tufts University in both American Studies and Art History with a focus on Asian American Studies and art created by marginalized communities. Sung-Min grew up transnationally between South Korea and the United States and her research stems from her bodily experience of being in flight and searching for landing as an immigrant in a settler nation. Sung-Min has a deep relationship with Boston Chinatown where she worked as a project manager, researcher, and youth worker. In a multimedia art project called "Washing," Sung-Min worked with artist Lily Xie to showcase community stories and the legacy of the I-93 and I-90 highways built through Boston Chinatown. "Washing" received the MIT Transmedia Storytelling Initiative Grant to recreate the art installation online, in which Sung-Min's research was put directly in conversation with resident quotes, creating a collage of oral history and historical/theoretical research. Like so, Sung-Min seeks to ground her research in community and vice versa. Sung-Min's research interests include performances of belonging by Asian Americans in the context of US settler colonialism, asociality and invisibility as critical performance, and the sky as a site of transformation for Asian American bodies in flight.
Mia Levenson
Pronouns: she | her | hers
Mia Levenson is a PhD candidate and dramaturg whose research explores the intersections of biomedical science, race, and theatre. Her research interests include the history of science and medicine, representations of epidemics and disease, as well as performances and presentations of scientific racism in theatre and in popular culture. Her dissertation explores the proliferation of eugenic science in early 20th century American popular performances. Mia's research has been supported by the Massachusetts Historical Society and the Consortium for History of Science, Technology and Medicine. She currently serves as the 2021-2023 Graduate Representative for the American Theatre and Drama Society. She has presented at the Comparative Drama Conference, the Association for Theatre in Higher Education, and the American Society for Theatre Research. You can find her work in Theatre Journal and Journal of American Drama and Theatre as well as the edited collections, Monsters in Performance: Essays on the Aesthetics of Disqualification (eds. Michael Chemers and Analola Santana, Routledge, 2022) and Identity, Culture, and the Science Performance, Volume 1: From the Lab to the Streets (eds. Vivian Appler and Meredith Conti, Bloomsbury, 2022). She holds a BA in Theatre and a B.S. in Biological Sciences from the University of Maryland, College Park as well as an MA in Theatre and Performance Studies from Tufts University. 
DeVante Love
Pronouns: they | he
DeVante Love is a Ph.D. candidate whose research rests at the intersection of psychoanalysis, popular culture, embodiment, and QTPOC liberation. They specifically look at how a ritualistic engagement in performances of anime, martial arts, and voguing allows one to explore their identities, transform, and heal. In 2018, they received a Masters in Clinical Psychology from Columbia University, during which they researched how creating a spiritual practice out of our hobbies can be an intervention for improving mental and emotional health. Since then, they have traveled across the globe holding workshops and counseling sessions that teach people how to heal themselves and find inner peace. During the pandemic, they co-authored a book about healing through creativity and opened an online wellness academy, Healing Kung Fu, to spread their work further to those in need. In addition to being a doctoral student, DeVante is also a mystic and a playwright. They will soon become a Buddhist Lama and are in the midst of completing their 3-part immersive theatrical production that allows the audience to experience the healing potential within practices such as spoken word poetry, martial arts, anime, voguing, etc.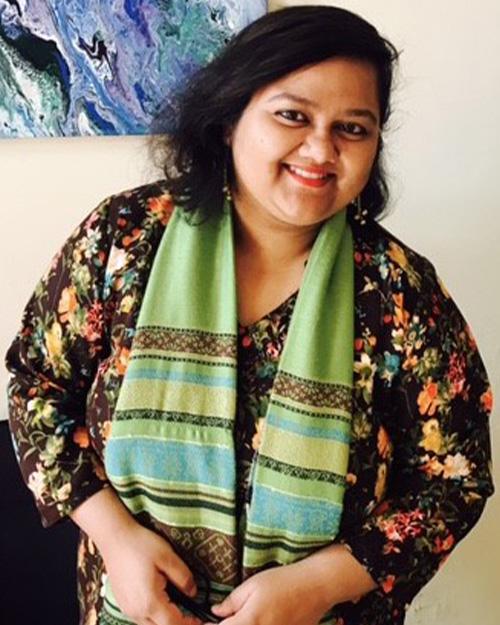 Manjari Mukherjee
Pronouns: she | her | hers
Manjari Mukherjee is a PhD student whose research interests include trauma studies, gender and citizenship studies, and race and minority studies in India. She completed her MPhil in Theatre and Performance Studies from the School of Arts and Aesthetics, Jawaharlal Nehru University (JNU), Delhi. Her dissertation focused on the legitimate and illegitimate performance practices the Anglo-Indians community between 1940 and 1950 in Calcutta and Bombay. As an academic, she has presented her research at the International Federation for Theatre Research (IFTR) and Indian society for Theatre Research (ISTR) and has published a part of her dissertation with the Theatre Research International (TRI). Manjari is a trained Kathak dancer and a theatre practitioner. Prior to joining the graduate department at Tufts, Manjari worked as an Arts Manager for Mojarto, India's largest curated e-commerce art portal. Manjari completed her bachelors (BA) in English Literature (Honours) from Presidency College, Kolkata; and masters (MA) in Arts and Aesthetics from Jawaharlal Nehru University, Delhi.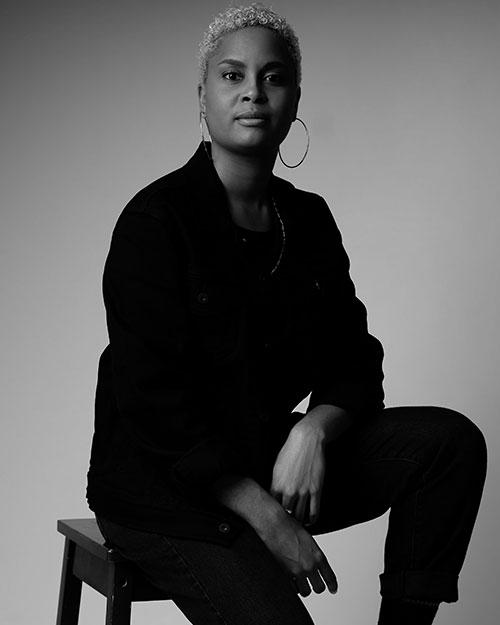 Elisa Peebles
Pronouns: she | her | sis
Elisa (Ayorinde) Peebles is a PhD candidate, creative strategist, and griot originally born and raised in Haudenosaunee territory, and currently finding refuge in the Caribbean archipelago of Borikén. Her research interests include Black Studies, Caribbean Studies and anti-colonial futurity, with a specific focus on the role of Black Atlantic Spirituality in the pursuit of liberation and the production of Otherwise worlds. She earned a BS in Media, Culture and Communications Studies from New York University.
Elijah Punzal
Pronouns: they | he | siya
Elijah Punzal is a first-year PhD student with research interests that broadly revolve around Filipino American diaspora and generational (re)memory, hoping to investigate how contemporary Fil-Am performances engage with identity, belonging, and ethics surrounding how Filipino Americans come to know or remember their history. Elijah graduated from the University of California Irvine with a double major in Drama and Education Sciences, minor in Urban Studies, and departmental honors in Dramatic Literature, History, and Theory. Prior to joining Tufts, Elijah worked at Berkeley Repertory Theatre as the 2022 Education & Community Engagement Fellow as well as Off-Broadway at WP Theatre as the 2021 Data Associate & Gala Assistant. With their work as a community facilitator, Elijah's research interests are largely influenced from their time in LGBTQ+ and API community organizations, most notably with the Bulosan Center for Filipino Studies, UCI Filipino American Alumni Chapter, and UCI LGBT Resource Center. Earlier in 2023, Elijah had the immense pleasure of contributing to UCI New Swan Shakespeare Festival's inaugural zine publication, writing a brief comparative piece on political leadership, public influence, and rhetoric between the fictional world of Julius Caesar and the current Philippine presidency.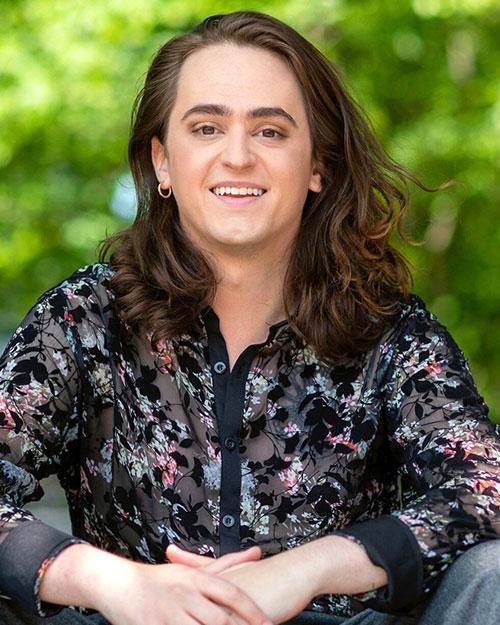 Jo Michael Rezes
Pronouns: they | them | theirs
Jo Michael Rezes is a nonbinary theatremaker & transmedia artist in Greater Boston dedicated to the development of new, queer works which feature transgender artists and fabulously grotesque aesthetics. Selected acting credits: Rocky Horror Show (Entropy Theatre); Nosferatu, The Vampyr (Sparkhaven Theatre); The Inheritance (SpeakEasy Stage Co.); Things I Know to Be True (Great Barrington Public Theater). Directing: Trans [Plays] of Remembrance (HowlRound.TV) & Cloud 9 (AD, The Nora – Elliot Norton Award for Outstanding Direction). Jo instructs gender and performance courses across the country (Yale Dramatic Association, UMass Law, Tufts, The Theatre Offensive) and serves as a contributor & gender consultant nationwide with the Gender Explosion Initiative at StageSource. Their TEDTalk, A Playful Exploration of Gender Performance, is available online! Jo is developing a monograph, Fractals: Nonbinary Acting Methods, and facilitates workshops on the topic. At Tufts, Jo has instructed Introduction to Acting, Public Speaking, and Devised Performance through TDPS, and they teach Camp: Humor, Bad Taste, Cult-Classics through the Tufts Experimental College. Rezes will also direct M Sloth Levine's "The Interrobangers" in Fall 2022 as part of the Tufts TDPS 22/23 production season. Their dissertation project, "Tastes Like AIDS: Sweet Aesthetics, Bitter Humor, and the Viral Flavors of HIV/AIDS" prioritizes sensation and taste to explore the aesthetic contaminations of queerness & race on public perceptions of the ongoing, global HIV/AIDS crisis. Rezes is a proud Vassar College alum (BA, English & Drama), Ph.D. Candidate in Theatre & Performance Studies at Tufts University, and Lecturer in Theatre at Boston College.  Learn more at: JMRezes.com.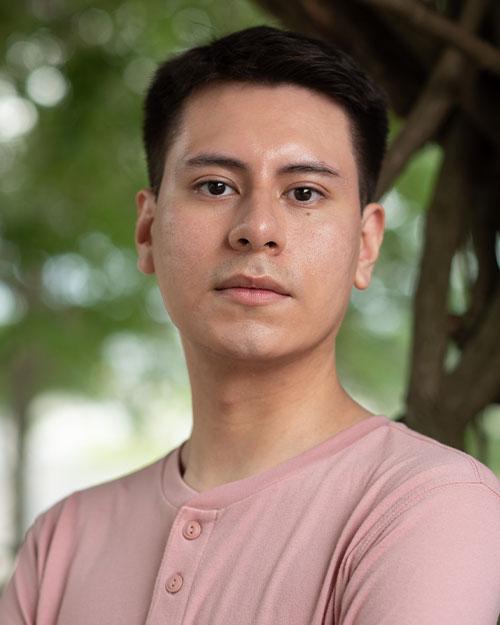 Hernan Sanchez Garcia 
Pronouns: he | they 
Hernan Sanchez Garcia is a first year PhD student studying how humor is used to discuss themes of race, gender, class and sexuality in Latinx Theater to create a generational channel for commentary and conversation. Hernan received his bachelor's degree in English and History with a minor in Theater from the University of Rochester. For his first onstage role, Hernan played God in URITP's production of Branden Jacob Jenkins, Everybody. Throughout his undergraduate study, Hernan explored and compared various dramatic works from the Chicano and Chicana Theater movement and other queer Latinx playwrights. His other academic interests include understanding the relationship between autobiography and theater through the themes of adaptation, performance, and identity. Presently, Hernan studies storytelling and improvisation at the Magnet Theater in NYC. He continues to perform regularly as a storyteller and improviser. 
Wenxuan Xue 文轩
Pronouns: any pronouns | ta
Wenxuan Xue (wen-shoo-an, shoo-eh) is an artist, teacher, and PhD student whose research explores queer aesthetics, mobilities, and ecologies in the Asias. Their teaching, research, and artistic practice is inspired and guided by ethnic studies, feminist/queer/trans studies, theatre and performance studies, and environmental humanities. They recently completed their master paper which examines minor falling as an aesthetic to think with interconnectedness of rural youths and migratory birds in times of Chinese ascension. Wenxuan co-facilitate a graduate humanities circle at Tufts. Ta is a Graduate Institute for Teaching (GIFT) fellow this year. They hold a BA from Wesleyan University and an MA from Tufts University.