History of Dance at Tufts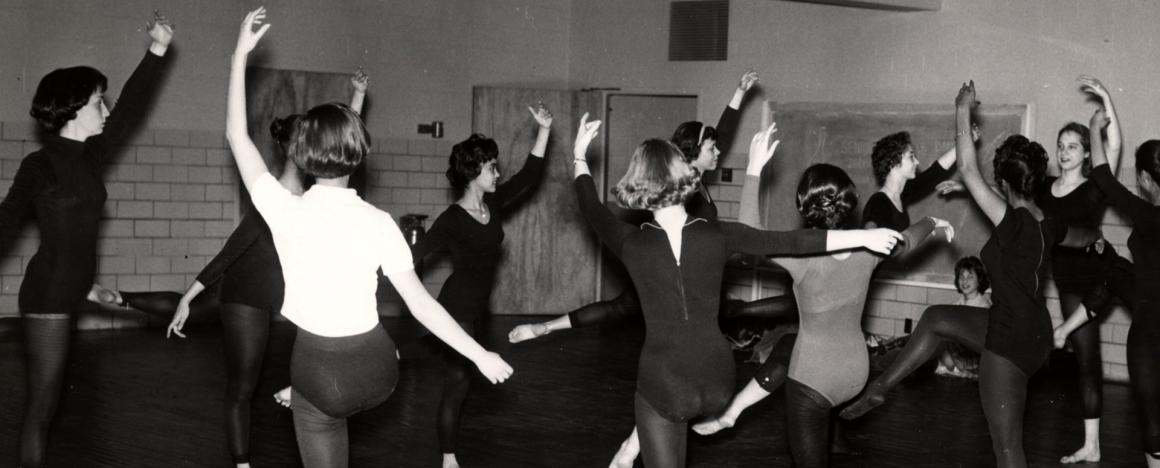 From 1970 to 1974, curricular dance at Tufts developed under the leadership of dance visionary, Griselda White. In 1983 the Trustees of the University approved the combining of dance and drama into a new Department of Drama and Dance, appointing Associate Professor Alice Trexler to the directorship of the "Dance Program." Over the following 29 years (1983-2012), Trexler developed the Dance program within the Department of Drama & Dance into a full program of experientially-based studio and academic courses that serve the liberal arts educational mission of Tufts and offer students direct experience with the art form.
In 1997, Senior Lecturer and Head of Dance Performance, Daniel McCusker, joined the Program faculty. As an accomplished dancer and choreographer, McCusker has brought his extensive background and professional experience with him to Tufts, enhancing the quality of studio dance, composition, and performance studies, while continuing to teach, perform, and choreograph both within and beyond Boston's professional dance community.
In 2012, Trexler retired as an Emerita Associate Professor and Renata Celichowska became the Director of the Dance Program. In 2018, the Dance program's home department was renamed the Department of Theatre, Dance, and Performance Studies, continuing its commitment to promoting innovative scholarship in the performing arts. After serving as Director for ten years, Celichowska returned to teaching full-time, and longtime Tufts Dance Faculty Jaclyn Waguespack became the current Director of Dance in 2022. Currently the Dance program includes a combination of full and part-time faculty who offer, on average, 12 courses per semester. Students have an option to pursue the Minor in Dance, to fulfill various Tufts requirements, and to receive elective credit.
Since its inception as a program of study, students minoring in Dance have entered a broad spectrum of professions after graduating from Tufts including in such fields as dance studies, theater and entertainment, medicine, law, engineering, public health, psychology, dance therapy, economics, and international relations. Tufts alumni, such as Art Bridgman, Donald Byrd, Betsy Gregory, and Mitchell Rose, have gone on to become distinguished in the field of dance itself. Over the past 49 years, many dance artists and professionals have taught and performed in the Program via guest artist workshops, residencies, and performances. These dance artists have included Dean Vollick, Anna Myers, Adam Taub, Jennifer Lin, Andres Giraldo, Andy Taylor-Blenis, Yessenia Fernandez-Selier, Kurt Douglas, Germaul Barnes, Nora Chipaumire, Melody Ruffin Ward, Melissa Alexis, Mai Dun, Heather Stewart, Sean Bjerke, Dicki Johnson Macy, Emily Beattie, Peter DiMuro, Audra Carabetta, Brian Crabtree, Nicole Pierce, Chavi Bansal, Anjali Nath, Shefali Jain, Nancy Jo Cardillo, Ian Berg, Jenny Oliver, Ruka White, Jun Kuribayashi, Seydou Coulibaly, Joh Camara, and Nancy Stark Smith, among many others.